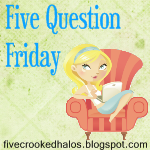 So this is my first time partaking in this Five Question Friday bloghop. How exciting! Mama M. over at
Five Crooked Halos
created this fun time and I have always been tempted to join in but never took the jump. Today...I jump.
1. What were your school colors?

My school colors were maroon and gold and we were the Spartans. I myself was filled with school spirit as I played basketball and tennis! Hahahaha. Well, ok I played tennis my senior year so I could get a study hall after lunch and do NOTHING. Because that's what a study hall is for, to do nothing. Right?!
2. What's the best compliment you ever received?
The best and most appreciated compliments are those regarding my children. If someone tells me my children are beautiful or well behaved or was nice to their child or has excellant manners, those are the things that tickle my heart.
3. Do you buy cheap or expensive toilet paper?
I buy Quilted Northern in bulk at Sam's. We go through like a roll a day around here. It's soft and strong ya know!
4. Have you ever had a surprise party thrown for you? Or have you had one for someone else?
YES!! My dear husband threw a surprise party for me on my 30th birthday!! I happened to be pregnant with our fourth babe. I had always wanted a surprise party and had probably been hinting to my DH that I wanted one. So of course he provided, like he always does! I have never technically thrown a surprise party for anyone, but I have surprised my husband on many birthday and anniversary by taking him somewhere special. Does that count?!
5. What is one material possession that you "can't live without"?
This is a tough one. I'm thinking either phone, laptop or camera. Can't decide!! OK, I'll say camera. I still would want to capture the moments that make life precious.
That was fun! Now you know a little more about me! And that's what it's all about right? ME!! Just kidding...getting to know each other, that's what it is all about!